Let's get ready before you start your Ei Pra Trail.
1. Log On To The Empatheme App
Open the Empatheme app on your smartphone.

Enter the email address and password that are provided in the registration confirmation email to log in.
2. Ei Pra Cards
Your English practice is summarized in one hundred of theme cards. 2,500 of Seeds in a dialogue format link to the Seeds that are delivered to your Empatheme app every day.
The cards are also available online.
The Empatheme website has a search bar and links to other sources, which will help your English learning.
3. Check Out The Native Samples Availability
Go to "Connection" and check if you can see the registered "Ei Pra" in your list. You can access the native samples here once your practice started.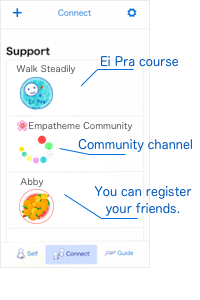 You can walk Trails with anyone you want. Thinking about others evokes the power of empathy, easing your self-judgment. The presence of others will let your practice go on as far as you want.
Apply for A Group Registration
4. How To Use The App
5. Trial・Preparation
Your practice will start on Monday. Let's try out each practicing process as a warmup.
You can see some native samples in the "Empatheme Community" in "Connection."
Use any of these for your trial run.
It seems hard at the beginning, but you'll get used to it!